Just before Christmas, our UK Hub staff donned their Christmas jumpers to raise money for homeless charity, Room at the Inn and The Y Project.
As well raising money, staff also brought in donations of non-perishable food items and toiletries to help the service users over the festive period.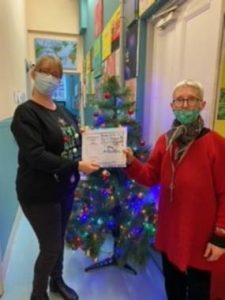 Our UK Hub Supervisor, Claire Sherlock (pictured left), presented the donations to the charity Manager and Support Worker, Susan Blyth (pictured right), and accepted a certificate on behalf of Incredible and our sister company Indepth.
In 2019, the charity had 14,225 daytime service users and they provided overnight bed spaces to 3,075 people. They do such good work in the community, it's great to be able to continue supporting them.