Director of Operations for Incredible Window Cleaning, Darran Yates is taking to the saddle to ride 52 miles from Manchester to Blackpool to raise money for Action For Pulmonary Fibrosis

Action For Pulmonary Fibrosis is a UK IPF charity focused on improving the quality of life for pulmonary fibrosis patients and funding research to give people a better life and a future.
In 2016, Darren Yates' father was diagnosed with Idiopathic pulmonary fibrosis (IPF) and sadly passed away 2 weeks later. He is carrying out the charity bike ride to help raise awareness of the condition and to support Action for Pulmonary Fibrosis in providing future care for those affected by this little-known condition.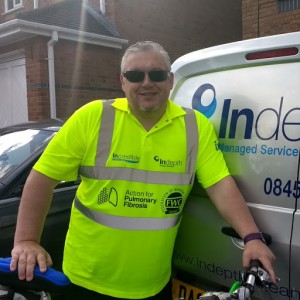 Darran said:
"I am delighted to be carrying out this bike ride for such a worthy cause and if my contribution helps Action for Pulmonary Fibrosis to improve the quality of life for at least one patient, it will be a huge achievement."
IPF is a progressive condition and usually gets worse over time. In some people the symptoms gradually get worse over several years. For others, the symptoms get worse more quickly.